HannaZen
WOMAN STAYS BY HER HORSE'S SIDE FOR THREE HOURS AFTER 900LB ANIMAL GETS STUCK IN MUD.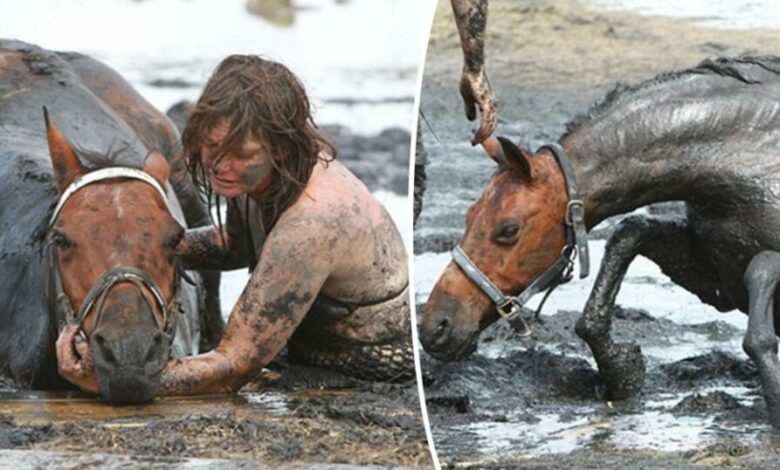 After the enormous animal became stuck in mud, a young mother spent nearly three hours by her beloved horse. The tide was rising quickly, and it took a race against the clock to save the horse. Initially, the courageous woman was able to save both her daughter and another horse.
A ride on the beach turned into a nightmare for this mother-daughter duo and their two horses. Nicole Graham was riding 17-year-old Astro, while her daughter Paris was riding a younger horse, when the massive animals got stuck in mud. Desperate, the woman rushed to save her daughter and her horse.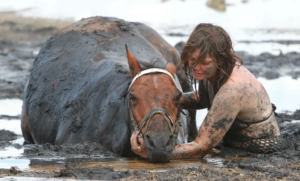 Astro was struggling to find his way out and his desperate efforts to free himself only sank him even more. As a result, his owner clung to him and tried to calm him down until Paris, the owner's young daughter, called out for assistance. The girl went to their car and made a call for assistance there. Her mother remained by Astro during this time.
By the time a rescue team arrived, both the horse and his owner were exhausted. But fortunately, they were able to pull Astro so safety, after sedating him. The experience was a terrifying one for Graham who owns ten horses.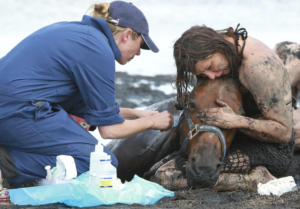 "It was terrifying. The sight of my horse struggling and becoming worn out was also heartbreaking, the woman told the Geelong Advertiser. Every time I moved, the mud pulled me back down because it was everywhere. It refused to let us leave.
The horse's rescue was possible thanks to the efforts of the fire crew that teamed up with a vet and a local farmer. Thankfully, Astro was unharmed, but only dehydrated!
Fire lieutenant Roger Buckle said, "It was a race against the tide and we won. "It was like a quicksand."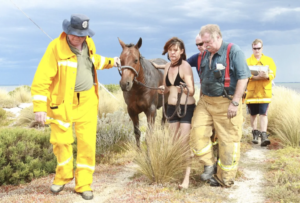 Vet Stacey Sullivan credited the owner Nicole Graham for saving the horse's life. "A lot of horses don't make it and I think without the owner there, the chance of survival would have been a lot lower," she said.
Video: