HannaZen
Meet The Real-Life Mustang That Inspired 'Spirit: Stallion of the Cimarron'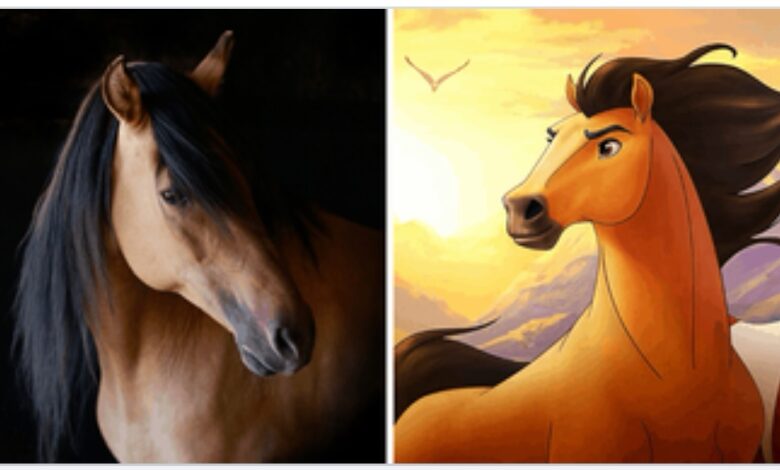 An inspiring story of survival, strength, friendship, and freedom, Spirit: Stallion of the Cimarron is an all-time favorite movie for horse lovers of all ages. It follows a wild mustang as he fights for his freedom and that of his herd. The artistry, story line, and killer soundtrack work together to make a horse movie worth watching over and over.
It's been 18 years since the original animated movie made its debut. You might have every line memorized, but did you know there is a real-life Spirit that inspired the fictional character?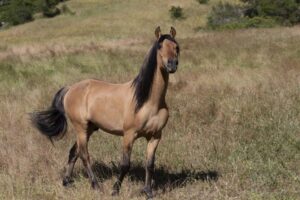 The Making of Spirit: Stallion of the Cimarron
Unlike other animated movies, Spirit set out to be as realistic as possible. The horses don't talk, and generalized events, including the expansion of the railroad, are based on fact, not fiction. Producers thought it was important to deliver a film that inspired viewers while melding the worlds of animation and real life. Achieving that goal took more than clever animation. They needed artistry that could tell a story without dialogue and evoke emotions with each movement.
To do that, artists needed a model. They needed a real-life horse to serve as inspiration. After a search, they found a Kiger mustang with beautiful conformation, coloring, and strength. His name was Donner, but these days that real-life mustang goes by a different name: Spirit.
DreamWorks selected the now-named Spirit when he was a colt. Born to a stallion and mare that had been captured by the BLM in Oregon, Spirit was (and still is) a beautiful example of the Kiger mustang breed. His wide-set eyes and thick, wavy, multicolored tail and mane became the inspiration for the animated horse that still steals hearts all these years later.
Before the 2002 movie made it to the big screen, animators spent countless hours observing Spirit. They watched how his muscles moved when he ran and how his face changed with his mood. With Spirit's help, animators created an accurate equine character that looks and moves just like their live model.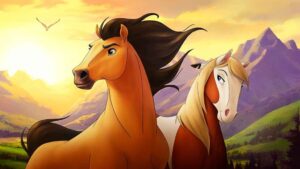 A Wild Horse Sanctuary
When the movie was finished, DreamWorks chose Return to Freedom's American Wild Horse Sanctuary to be Spirit's permanent home. Spirit posed for animators almost two decades ago, but the beautiful mustang we all love still serves as an advocate for Kiger mustangs and all of America's wild horses. In fact, he recently celebrated his 25th birthday!
Like his animated character, the real-life Spirit is part of the fight to help wild horses maintain their natural habitats and freedom. While he lives at the sanctuary and loves interacting with people, Spirit is a prominent ambassador for wild horses. He engages youth around the world to learn more about America's mustangs and every horse's need for freedom and protection.
He lives on Return to Freedom's headquarter facility in Santa Barbara County on 300 acres of pristine California pasture. From a young age he learned to be comfortable around people, but those who know him best say he has spunk and spirit similar to that of his fictional character. He's grown to be an important part of the wild horse sanctuary, and he's helping educate the public about his breed and ways humans can protect all of America's wild horses.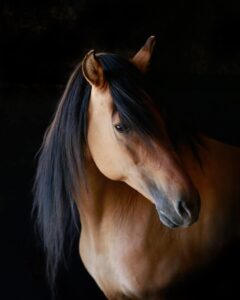 An Ambassador for Freedom
With Spirit's claim to fame, he attracts crowds of fans to his sanctuary home. During these visits, the real-life Spirit helps the sanctuary spread an important message about what's currently happening to the country's wild horses and what the public can do to help.
Spirit's work in inspiring others has been recognized not only by the countless people he has met, but also by the EQUUS Foundation and the United States Equestrian Foundation. The organizations inducted Spirit into the Horse Stars Hall of Fame in 2018, and he continues to influence the sanctuary's mission even decades after Spirit: Stallion of the Cimarron was released.
Now 25 years old, Spirit keeps busy enjoying life at the sanctuary. He spends his days interacting with a few of his equine friends and enjoying attention and care from his favorite humans. He was born in captivity, but the spirit of independence and the wild west lives in his veins. And thanks to Spirit: Stallion of the Cimarron, his image will continue to show others that freedom is always worth fighting for.