HannaZen
ADORABLE PHOTOS OF THIS DOG WHO IS THE "THIRD WHEEL" IN A HORSE FAMILY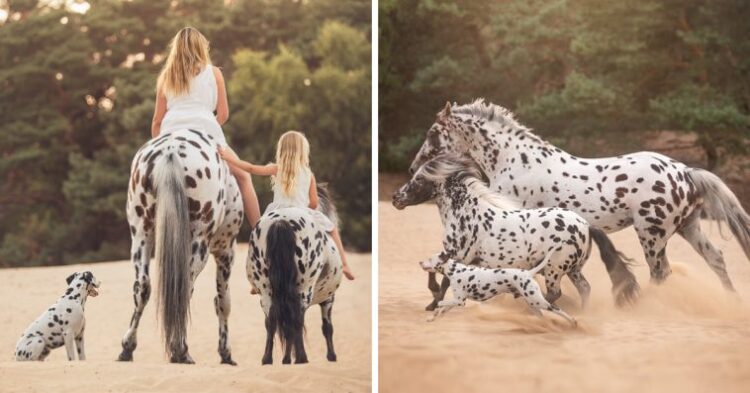 This time, we'll discuss the adorable story of Jack Sparrow, a 2-year-old Dalmatian who is the third member of the horse "family" that also includes Nevada, a 9-year-old Appaloosa stallion, and Napoleon, a 5-year-old Shetland pony.
Although Nevada and Napoleon are not blood relatives, they live and act as if they are, spending the most of their time together and getting along quite well.
Jack Sparrow, who joined the "pack" as the third person nearly as soon as they got to the hotel, is older than both of them.
When Jack Sparrow first met Napoleon as a puppy, he began to jump towards him because he believed Napoleon was a member of his family, and ever since, he has always wanted to be close to him. Nevada and Jack are both peaceful, they enjoy being around each other, and they enjoy performing tricks for me together, according to Hakvoort, who said to "Just Something" that "Napoleon is incredibly hilarious and definitely lives up to his name, having a strong temperament and acting like a little king."
Despite their differences, Jack Sparrow, Nevada, and Napoleon are close and share a cute friendship. They all have white fur with black dots, which makes everything even more lovely to look at. They enjoy playing and running together and are true friends, although sometimes Napoleon would like to chase Jack. "Their relationship is obvious, and Jack constantly wants to be with them in every image and video," continued Hakvoort.
This unusual trio is entertaining to watch and serves as a practical example of how creatures from various species can get along.
Below are some of Just Something's favorite images of Jack, Nevada, and Napoleon.